St. Patrick's Day is March 17.
Celebrate some of Ireland's rich heritage with family and friends.
We can help with a delicious selection of traditional St. Patty's Day fare. Lou's Garrett Valley Corned Beef is small batch cured, free of nitrates, nitrites or anything artificial, and is the foundation of the traditional meal.
We're always looking for reasons to celebrate, so when a holiday comes around, our deli makes the food to help you make it more special. This year, our deli case will be stocked with plenty of traditional favorites, including: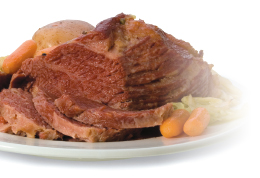 • Corned beef and cabbage
• Colcannon with croquettes
• Irish champ
• Irish stew.
Along less traditional lines, our bakery will feature green-themed goodies including Green Velvet Cake, shamrock and leprechaun sugar cookies, and our famous Irish Oatmeal Cake.
As always, our food is prepared lovingly, on site, from scratch – delicious and nutritious, for the body and soul.
Whatever your heritage, New Frontiers carries all you need to celebrate the Luck o' the Irish on St. Patrick's Day.