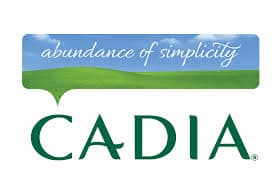 We're pleased to offer the Cadia line of products, offering an abundance of simplicity. Founded in July 2010 with the mission of creating a brand of affordable organic and natural foods that taste great, Cadia launched with 80 products including beans, juice, chips, and vegetables, and has now grown to more than 200 products.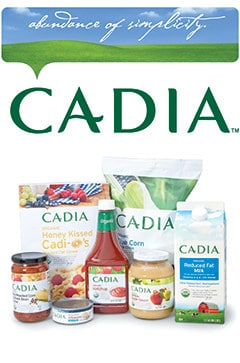 Our friends at Cadia:
believe in using simple, honest ingredients in the products.
use only the finest natural and organic ingredients.
are committed to sourcing non-GMO ingredients.
harvest fruits and vegetables in their peak ripeness to lock in flavor.
support small family farms across the U.S.
hand-craft their recipes for you and your family to enjoy.
believe in following sustainable farming practices.
celebrate the beauty of food in its natural state.
believe farming should be preserved for future generations.
believe that food should awaken your senses.
believe food should be enjoyed for the simple pleasures it offers.
believe eating well contributes to a life of abundant pleasures.
Cadia not only believes in the "abundance of simplicity" (which means eliminating the ingredients we can't pronounce) and using the freshest, highest quality ingredients they can, they also believe that food should provide a lasting impression and awaken your senses.
Cadia's tagline is "Abundance of Simplicity," and we believe just that. We hold a firm belief that food should be enjoyed and even celebrated for the simple pleasures it offers. The products we offer are farmed sustainably and use natural and high-quality ingredients. We believe that enjoying honest, simple, and organic ingredients paves the way to a rich life filled with abundant pleasures.
Look for the Cadia label in our store and enjoy – an abundance of simplicity.
For more information http://mycadia.com