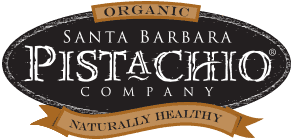 In 1991, the Gene and Gail Zannon began Santa Barbara Pistachio Company on their family farm in the hills of the Sierra Madre Range in Santa Barbara County with the goal of producing the best-tasting, organic pistachios anywhere.
With son Tristan in charge of farming the 380 acres of pistachio trees and son Josh and his wife Jennifer managing operations and sales, the family still controls every phase of production – from planting, farming and harvesting, to brine flavoring, hot-air roasting and hand-packaging.
Naturally tree-ripened, Santa Barbara Pistachios are brined with 100% natural Organic ingredients, the result being a delicate crunch and a distinctively intense flavored pistachios that are certified Kosher, cholesterol-free, gluten-free, vegetarian and 100% Certified Organic by CCOF.