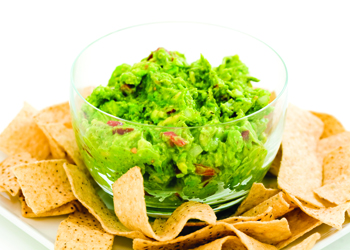 Ingredients:
3 ripe avocados
1-2 jalapeno chilies, minced (remove seeds for milder flavor)
1-2 small ripe tomatoes, seeded and diced
1/4 cup chopped cilantro
1/4 cup chopped white onion
1 small clove garlic, minced
1 lime
salt to taste
Scoop avocado into a mixing bowl and mash lightly with a fork. Add jalapeno, tomato, cilantro, onion and garlic and mix lightly.
Squeeze lime juice over avocado and mix. Season with salt to taste. Enjoy with New Frontiers Tortilla Chips. Mmm good!