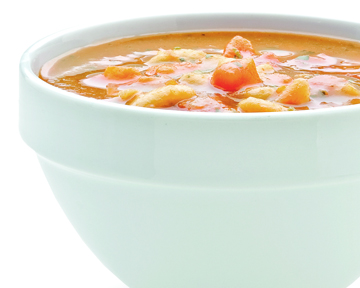 Ingredients:
2 tablespoons olive oil
1 medium yellow onion, chopped
2 cloves garlic, minced
1 1/2 lbs. carrots, peeled and sliced
4 cups (1 quart) vegetable or chicken stock
1 teaspoon salt
1 medium potato, diced
1-inch piece fresh ginger, peeled and chopped 
1/2 cup raw cashews, chopped
Heat oil in large saucepan. Add onion and garlic and saute over medium heat until onion is translucent, about 5 minutes. Add remaining ingredients and bring to a boil.
Reduce heat, cover and simmer for 15-20 minutes, until vegetables are very tender. Use an immersion blender to puree the soup until smooth (or puree in batches in a blender – be careful when blending hot liquids). Adjust seasonings if needed. Serve topped with a dollop of sour cream or plain yogurt.