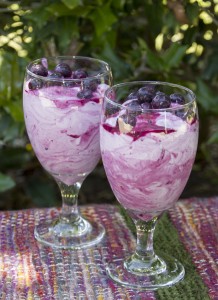 This bright and fresh recipe is written with blueberries in mind but any fresh summer berry can be used. Try it with raspberries or strawberries or a mixture of the three.
Ingredients:
2 cups blueberries
1/4 cups plus 2 Tbl. sugar
Pinch of salt
1/2 tsp. grated lemon zest
1 1/2 tsp. lemon juice (preferably fresh)
1 cup heavy cream
1 5-6 oz. pkg. Greek yogurt (about 2/3 cup)
Heat 1 1/2 cups blueberries, 1/4 cup sugar, salt, lemon zest and juice in a small saucepan over medium heat until bubbling. Reduce heat to low and cook about 5 minutes to soften blueberries. Stir in the remaining blueberries and allow the mixture to cool.
Beat the heavy cream, yogurt, and remaining 2 tablespoons of sugar until soft peaks form. Gently fold all but 1/4 cup of blueberry sauce into the cream mixture, leaving some streaks of sauce in the cream. Divide among 4 glasses and top with reserved blueberry sauce. Serves 4.