There is nothing better than homemade applesauce, and it's so easy to make. If you prefer smooth applesauce, run the finished sauce through a food mill.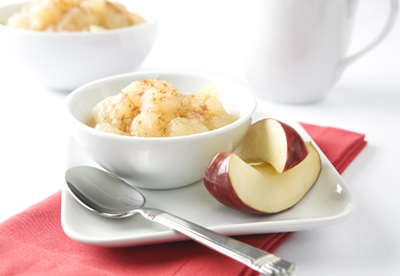 Ingredients:
10 apples, cored and chopped

3/4 cup apple juice
1/4 cup turbinado sugar
3 strips of lemon peel (use a vegetable peeler to remove only the yellow part of the peel)
1 tsp. ground cinnamon
Place all ingredients in a large heavy bottomed saucepan and cook over medium heat to boiling. Reduce heat, cover pot and simmer, stirring occasionally, until apples are soft and sauce is chunky, about 30-40 minutes (cooking time will vary depending on the variety of apples). Remove lemon peel. Serve warm or chilled.
This is delicious served warm over pancakes or waffles, or chilled with vanilla yogurt.