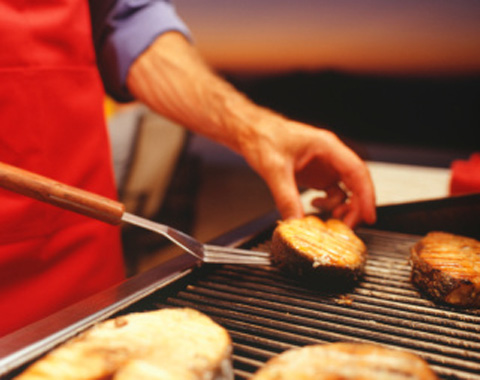 Ingredients:
1 lb. albacore, cut into 1-inch thick medallions
1 tablespoon olive oil
3 tablespoons lime juice
1 teaspoon curry
1/2 teaspoon grated ginger
1 tablespoon chopped red onion
1 teaspoon honey
1 medium red delicious apple
sliced thinly 
Make marinade by combining all other ingredients except apple.
Add albacore and marinate for 30 minutes, turning once.  Remove albacore reserving marinade. Place on greased grate, 4-5 inches from hot coals
and grill for about 3-4 minutes on each side.  Baste generously with reserved marinade.  Turn frequently. Most importantly, do not overcook! Albacore should be pink in the center when removed from heat. The center will continue to cook (from latent heat) for  several minutes after removal. Serve over chilled apple slices.
Albacore is a great source of protein and contains the highest concentrations of heart-healthy Omega-3's in the tuna family. This information & recipe (adapted for you) courtesy of the Oregon Albacore Commission.