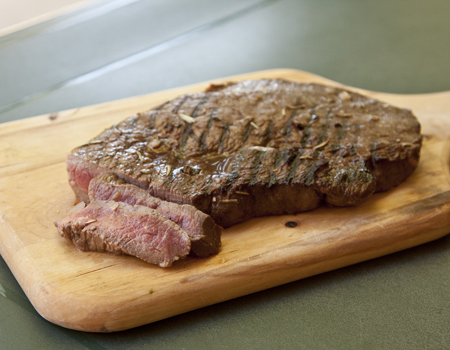 For the grill
Lemon Marinated Top Sirloin Steak
Ingredients:
1/2 cup lemon juice (about 4 large lemons)
3 tablespoons extra-virgin olive oil
1/4 cup red wine vinegar
1/4 cup minced shallots
1 tablespoon fresh rosemary
2 tablespoons soy sauce
1/2 teaspoon black pepper
1 lb. boneless top sirloin steak
Preheat grill. Trim excess fat from the steak to reduce flare-ups when the steak hits the grill. 
Combine lemon juice, oil, vinegar, shallots, rosemary, soy sauce, and pepper in a shallow dish. Add steak and turn to coat; cover, and refrigerate at least 30 minutes.
Remove steak from marinade and grill 5 minutes per side on high heat for medium rare (about 135 degrees).
Remove steak and let rest 5 minutes before slicing into portions. Serves 4.