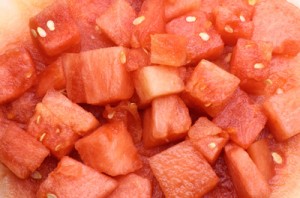 Ingredients:
1/4 cup sugar or agave + 1/4 cup water
1/2 seedless watermelon
1 cantaloupe, halved and seeded
2 tablespoons chopped fresh mint leaves
1 tablespoon chopped fresh basil leaves
1/4 cup fresh lemon juiced (from one lemon)
Simple syrup: Combine sugar and water in small saucepan; bring to a boil. Stir to dissolve sugar; remove from heat and cool. Use a melon baller to scoop 2 cups each from the watermelon and the cantaloupe (or dice fruit into chunks). If desired, carve out the remainder of the watermelon and reserve the shell to use as a serving bowl. Place mint, basil, lemon juice and simple syrup in blender jar and blend until smooth.
Place melon balls in the carved out watermelon half. Add the dressing to the melon and toss to combine. Garnish with extra sprigs of mint and basil. Serves 4-6.