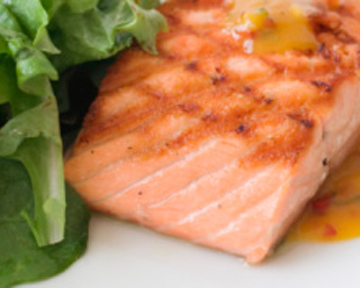 Ingredients:
1/2 cup plain yogurt
Juice of 1 lemon, plus lemon wedges for garnish
1 tablespoon extra-virgin olive oil, plus more for the grill
2 to 3 cloves garlic, smashed
1 1/2 teaspoons ground coriander
1 1/2 teaspoons ground cumin
Kosher salt and freshly ground pepper
4 6-ounce skinless center-cut salmon fillets
1/4 cup chopped fresh cilantro for garnish
Combine the yogurt, lemon juice, olive oil, garlic, coriander, cumin, 1/4 teaspoon salt, and pepper to taste in a small bowl. Pour half of the sauce into a large resealable plastic bag; cover and refrigerate the remaining sauce.
Add the salmon to the bag and coat with the marinade. Refrigerate 20 to 30 minutes, turning the bag once.
Preheat grill to medium-high. Remove the salmon from the marinade and blot off excess yogurt. Lightly oil the grill and add the salmon; cook, turning once, until browned on the outside and opaque in the center, 4 to 6 minutes per side, depending on the thickness.
Serve with the reserved yogurt sauce and garnish with the herbs and lemon wedges.
Courtesy of Foodnetwork.com