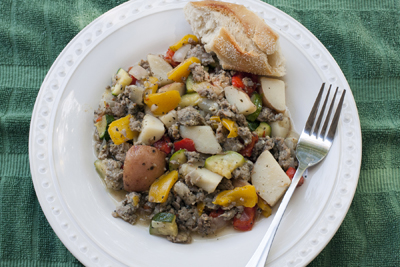 Ingredients:
1 lb. baby or very small red potatoes, quartered
2 teaspoons vegetable oil
½ teaspoon garlic powder
Salt and ground black pepper
1 lb. New Frontiers fresh made Italian sausage links,
(or variety of your choice), cut into 1" slices
1 large onion, chopped
4-5 cloves garlic, smashed
1 yellow bell pepper, cored and cut into 1" squares
1 red bell pepper, cored and cut into 1" squares
2 teaspoons dried rosemary
1 medium zucchini, halved lengthwise and sliced
Heat oil in a large non-stick skillet. Add potatoes and season with garlic powder, salt and pepper. Reduce heat to low, cover pot and cook 25 minutes, stirring occasionally so the potatoes don't burn. Remove potatoes to a bowl and cover; set aside. Add the sausage and onion to the skillet and sauté on medium-low, stirring occasionally, until browned but not quite cooked through, about 10 minutes. Add garlic, peppers, rosemary, and zucchini, season with salt and pepper and cook, stirring occasionally, until onions and peppers are slightly browned. Return potatoes to the skillet; adjust salt and pepper as needed. Cover and cook 5 minutes longer. Serves 4.