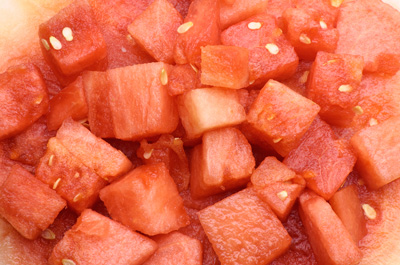 Ingredients:
1 mini seedless watermelon, about 4 lb.
1 3/4 lb. ripe tomatoes (On-the-Vine or Heirloom are best), cut into 1-inch cubes
2 Persian cucumbers
2 Tbs. extra-virgin olive oil
2 Tbs. balsamic vinegar
3 oz. feta cheese, crumbled
1/2 cup fresh mint leaves
Remove the rind from the watermelon and cut into 1-inch slices, then cut into 1-inch squares. Quarter the cucumbers lengthwise. Cut the seeds off, then cut the cucumber quarters across into ½ inch pieces. Place watermelon, tomatoes and cucumber in a large serving bowl and gently toss. Whisk oil and vinegar together in a small bowl and drizzle over the salad. Stack the mint leaves and slice into thin strips. Sprinkle mint and feta over salad. Serve immediately. Serves 6.