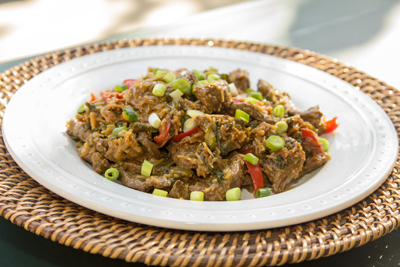 Ingredients:
1-1/2 lbs. sirloin tip steak
3/4 cup teriyaki sauce, divided
3 tablespoons fresh lime juice
2 teaspoons red curry powder
1 package (7 ounces) dried rice noodles
1 cup each thinly sliced red bell pepper strips, fresh basil and green onions
Black pepper
Cut steak crosswise into 1/4-inch strips. Place in shallow glass dish. Toss with 1/4 cup teriyaki sauce. Cover and refrigerate 15 minutes. Combine remaining 1/2 cup teriyaki sauce, lime juice and curry powder in small bowl. Set aside. Prepare rice noodles according to package; drain and rinse with cold water. Set aside.
Spray wok or large skillet with cooking spray. Heat over medium-high heat until hot. Add 1/2 of beef; stir-fry 1 to 2 minutes or until surface of beef is no longer pink. Remove from wok. Repeat with remaining beef. Add bell pepper to wok; stir-fry 30 to 60 seconds or until crisp-tender. Remove from wok. Add teriyaki sauce mixture to wok; bring to boil. Add rice noodles, basil, bell pepper, beef and 1/2 of green onions; stir until heated through. Season with black pepper, as desired. Garnish with green onions.
Serves 4 to 6.