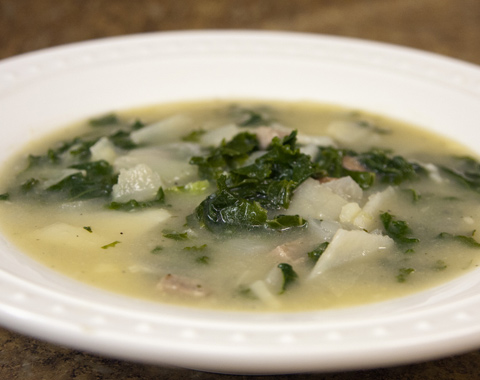 Ingredients:
2 tablespoons olive oil
2 cups chopped onions
2 teaspoons minced garlic
3-1/2 cups chicken broth
Water
3 lbs. potatoes, peeled & thinly sliced
1 lb. kale, large stems removed, shredded
4 oz. sausage of choice, pierced with a fork
1 teaspoon salt
¼ teaspoon freshly ground pepper
Heat the oil over medium heat in a large Dutch oven. Add onions and garlic. Cook covered, stirring occasionally, until softened. Add chicken broth, 4 cups water, and potatoes. Cover and bring to a boil. Reduce heat and simmer 20 minutes or until potatoes are tender. Add kale and simmer uncovered 10 minutes.
Meanwhile, cook sausage with 2 cups boiling water in a small saucepan for 5 minutes. Drain and cool slightly. Remove sausage from casings and chop. Transfer 2 cups potato mixture to a food processor and puree until smooth. Return puree to remaining soup; add sausage, salt and pepper. Simmer 5 minutes. Serves 7.