The key to a smooth, delicious, homemade hummus is to add the ingredients in stages and process for at least a full minute between additions. This allows the ingredients to become properly mixed and creates a smooth and creamy texture. This recipe requires a food processor.
Ingredients: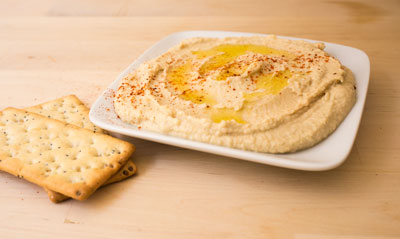 One 15-ounce can of garbanzo beans, drained and rinsed
1/4 cup fresh lemon juice
1/4 cup tahini
1 garlic clove, minced
2 Tbl. extra virgin olive oil, plus more for serving
1 tsp. salt
1/2 tsp. cumin
2-3 Tbl. water
sprinkle of paprika for serving
Begin by adding the tahini and lemon juice to the bowl of the food processor. Process for one full minute. Scrape the sides and bottom of the bowl with a rubber spatula and process again for another 30 seconds. The tahini should become creamier and pale. 
Then add the olive oil, garlic, salt, and cumin and process for another 30 seconds. Again, scrape the sides and bottom of the bowl and process for another 30 seconds. Add half of the garbanzo beans to the food processor and process for a full minute. Scrape the bowl and add the rest of the garbanzo beans, processing for another 1 to 2 minutes longer. The hummus should appear thick and quite smooth at this point.
If, at this point, the hummus is too thick slowly drizzle 2 to 3 tablespoons of water into the spout of the processor while it's running to thin the hummus slightly and break up any last bits of garbanzo.
To serve, add hummus to an appropriately sized bowl. Drizzle one tablespoon of olive oil over the top and sprinkle with paprika. 
Store refrigerated in an airtight container for up to one week.