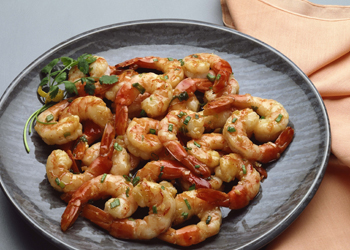 A Super Recipe For The Game
Ingredients:
2 lbs. shrimp, shelled and deveined
4 tablespoons butter
2 teaspoons garlic, minced
1 teaspoon dried oregano
1 teaspoon dried basil
1 teaspoon dried thyme
1 teaspoon cayenne pepper
1/2 teaspoon crushed red pepper flakes
1/2 cup Reed's Original Ginger Brew
1/2 teaspoon salt
1/2 teaspoon black pepper
Melt butter and sauté, over medium heat, the garlic, oregano, basil, thyme, cayenne pepper and crushed red pepper flakes until garlic is slightly browned, 2-5 minutes. Add shrimp, stirring constantly, until shrimp just turn pink.
Pour in the Ginger Brew and simmer 1 minute more. Add salt and pepper to taste.