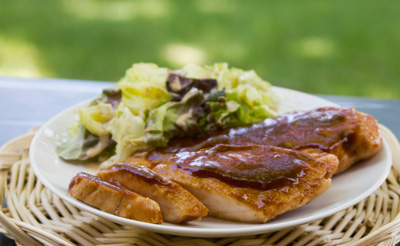 Ingredients: 
6 tablespoons dark brown sugar
1/2 tablespoon chile powder
2 teaspoons dry mustard
Kosher salt
8 boneless, skinless chicken breasts or thighs 
¾ cup tomato ketchup
¼ cup low salt soy sauce
¼ cup cider vinegar
1 tablespoon Dijon mustard
½ teaspoon hot sauce
Heat a gas grill between medium and medium high. In a small bowl, combine 2 tbsp. brown sugar, chile powder, dry mustard and 1 tbsp. salt. Rub the spice mix over chicken. 
In a small saucepan, whisk the remaining brown sugar with ketchup, soy sauce, vinegar and Dijon mustard. Bring to a boil. Lower heat and simmer, stirring frequently, until sugar dissolves. Remove from heat and cool slightly. Add a pinch of salt, if needed. Stir in the hot sauce.
Place chicken on grill, cover, and cook until meat turns a deep reddish brown, 4 to 5 minutes. Turn the chicken and continue to cook until the meat is firm and deeply colored, 3-4 minutes. Brush a generous amount of sauce over the chicken, cook 1 minute, turn, brush with sauce, cook 1 minute. Arrange on a platter and serve with any remaining sauce. Serves 8.