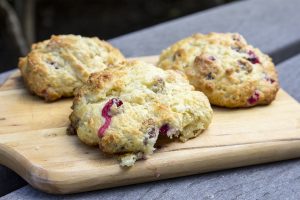 Fresh cranberries add a tart zing to these easy biscuits. The wet dough makes it easy to drop them onto the baking sheet, and eliminates the need for kneading or rolling out the biscuits.
3 cups unbleached flour
3 tsp. baking powder
1/2 tsp. baking soda
1/2 tsp. salt
1/4 cup cane sugar (plus more for tops) 
3/4 cup cold butter (1 1/2 sticks)
1/2 cup toasted pecans, chopped
1 cup fresh cranberries
1 5-6 oz. carton plain Greek yogurt
3/4 cup milk
1 egg, beaten
Preheat oven to 425°.
Combine flour, baking powder, baking soda, and salt in a large bowl. Add butter and cut into small pieces with pastry blender or rub between your fingers (or use a food processor). Add cranberries and pecans. Whisk yogurt, milk and egg together, then add to dry ingredients and stir with a fork just until blended – do not overmix.
Drop dough by heaping spoonfuls (about 1/4 cup) onto greased cookie sheets. Sprinkle tops with additional sugar, if desired. Bake until biscuits are golden brown, about 11 – 13 minutes.
Makes about 1 dozen.