Living on California's Central Coast, we're lucky to have so many locally-grown fruits and vegetables that are in season all or most of the year, including lettuce, broccoli, onions, lemons, and more. Even things like sweet potatoes, celery and green beans, which are so much a part of our Thanksgiving meal traditions, are available and in-season for most of the year.
There are a few items, however, which are specific to this time of year, and which have become part of our holiday meal traditions.
The pomegranate is an ancient fruit that originated in Iran. It was first introduced into California in the late 18th Century by Spanish colonists. The seeds are deep red in color, and the taste is sweet with hints of sour.
To remove the seeds, slice a quarter-inch off of the stem end, and then turn it over and then turn it over and cut out the crown. Next, score the outside skin with a sharp knife and working over a bowl pry open the fruit with your fingers. If you like, you can fill the bowl part way with water. The seeds will sink to the bottom of the water while pieces of membrane will float to the top, making it easier to separate the membranes from the seeds. Once you are done stripping the pomegranate seeds from the skin and membranes, skim the membranes from the top of the water, and strain the seeds from the water.
Put the seeds into a serving bowl and munch away, or use them in recipes, such as Waldorf Salad (click for recipe).
Tangerines are another fruit that are frequently found on our Holiday table. Our favorite way of eating them is to simply peel them and eat – a wonderfully sweet snack, or end to any meal. We also use them in salads and desserts. See our recipe below for Clementine cake.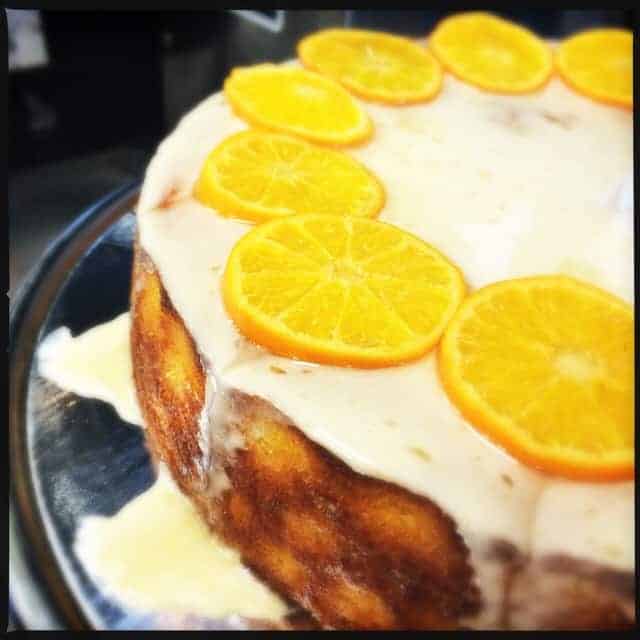 Clementine Cake
(gluten free)
1 lb. clementines
6 large eggs
1 cup + 2 tablespoons cup cane sugar
6 cups almond flour
1 1/2 tablespoons baking powder
1/4 teaspoon salt
3 to 4 fresh whole clementines, thinly sliced
Glaze
1 1/2 cups powdered sugar
1/4 cup clementine or orange juice
1/2 teaspoon orange extract
Grated zest from 1-2 clementines
Butter a 10-inch springform pan and set aside. Preheat oven to 350°F.
Place clementines in a large pot. Add enough water to cover the fruit, place over high heat and bring to a boil. Lower heat and simmer for 2 hours. Remove from heat and set aside to cool.
Cut clementines in half and remove the seeds. Place fruit in the bowl of a food processor fitted with the blade, and puree in batches.
In a mixing bowl, beat the eggs well, then add the pureed clementines. Add sugar, almond flour, baking powder and salt; mix until well blended.
Pour batter into the prepared pan. Top the entire cake with thinly sliced fresh clementine oranges.
Bake at 45 min to 1 hour, until a toothpick inserted come out clean.
Cool cake in pan overnight.
Unmold cake onto serving plate.
Make the glaze: Whisk powdered sugar, juice, and orange extract together until no lumps remain. Spread over cake. Sprinkle with zest.
Serves 8-12