Ingredients: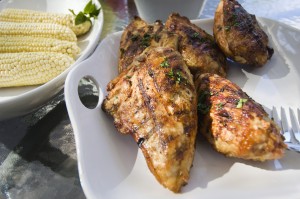 4 chicken breasts

4 garlic cloves, minced
1/4 cup fresh rosemary, coarsely chopped
1/4 cup fresh lemon juice, (approx. 2 lemons)
1/2 cup olive oil
1 tsp. salt
1 tsp. ground pepper
Lemon wedges for garnish
Combine garlic, rosemary, lemon juice, and olive oil in a shallow dish. Add chicken and turn to coat. Cover and refrigerate, turning occasionally, 1 to 3 hours.
Heat grill to medium-high. Coat grill with vegetable oil or cooking spray. Remove chicken from marinade, drain and lightly pat with paper towels. Discard excess marinade.
Sear the chicken until browned (about 2 minutes each side). Turn off 1 burner and move the chicken to the indirect-heat zone. Cover and cook until firm, about 30 minutes. If the chicken begins to burn, reduce heat. The internal temperature of the chicken should be 165 degrees F.
Allow to rest for 5 minutes before serving. Serves 4.
Recipe compliments of www.cafetecumseh.com