Ingredients: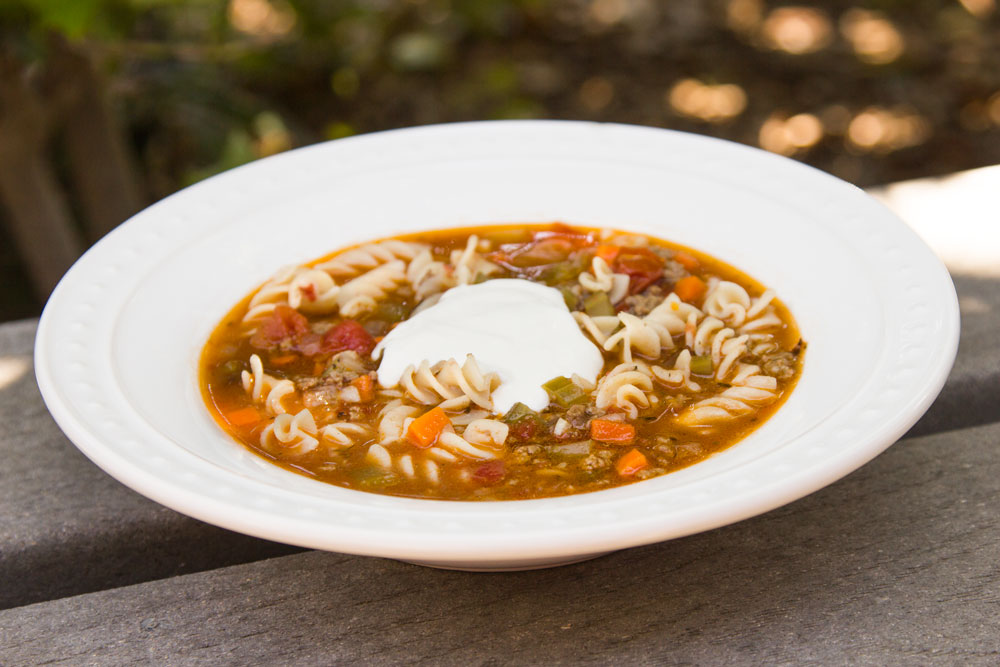 1 pound ground beef
1 Tbl. olive oil
1 cup each carrots, onions, and celery, diced
1/2 tsp. minced garlic
3 1/2 cups chicken broth (or two 14.5 oz. cans)
1 can diced tomatoes (14.5 oz.), liquid reserved
1/2 tsp. each thyme and salt
1/4 tsp. freshly ground pepper
3 cups (4 oz.) spiral noodles, cooked according to package directions
1/4 cup fresh parsley, chopped
grated cheddar for garnish
Cook ground beef in a large Dutch oven over medium-high heat until browned, 5 to 7 minutes. Remove meat from pan with slotted spoon and set aside.
Add oil, carrots, onions, celery, and garlic to pan. Cook until tender-crisp, about 5 minutes. Add chicken broth, tomatoes, thyme, salt, pepper, and beef. Bring to a boil. Reduce heat, cover and simmer 20 minutes.
Just before serving, stir noodles and parsley into soup and heat through. Spoon into bowls and garnish each with a sprinkling of cheddar cheese.
Serves 4.