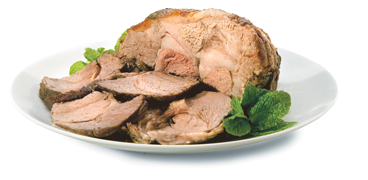 Ingredients:
1 3.5-4 lb. boneless leg of lamb
3 large cloves garlic, sliced
4 tablespoons olive oil 
1 tablespoon thyme 
1 tablespoon dried rosemary
2 teaspoons sea salt 
2 teaspoons coarse ground black pepper
1 teaspoon ground coriander
15 new potatoes, cut into quarters
1 teaspoon coarse salt 
Fresh rosemary sprigs (for garnish)
Cut slits all over the lamb and insert garlic slices into the slits. Brush lamb with 2 tablespoons olive oil. In a small bowl combine 2 tsp. thyme, 2 tsp. rosemary, sea salt, 1 tsp. pepper and coriander. Pat herb mixture evenly over the lamb. Place lamb in a shallow roasting pan. Combine the potatoes, remaining herbs and olive oil and arrange around the roast. Roast at 325 degrees for about 2 hours or until meat thermometer reaches 120 degrees for rare (start testing around 1-1/2 hrs.), stirring the potatoes every 30 minutes. (For well-done meat, roast 30 to 45 minutes longer.) Serves 4.