Ingredients: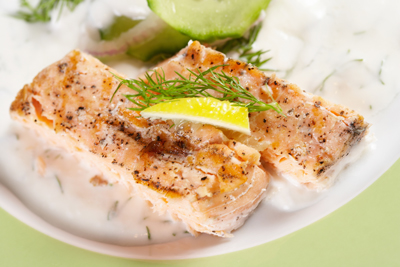 4 garlic cloves

1/2 tsp. each dried basil, thyme, oregano, & rosemary
1 tsp. lemon juice
1 tsp. olive oil
2 Tbl. Dijon mustard
4 6-oz. wild salmon fillets, about 1 inch thick
salt and fresh ground pepper to taste
4 lemon wedges for serving
Finely mince the garlic (or use a mortar and pestle) and mash garlic, herbs, lemon juice, oil, and mustard into a thick sauce. Set aside.
Lightly season the salmon with salt and pepper. Heat a skillet or grill pan on high heat. Spray pan with nonstick spray, reduce heat to medium-low, add salmon and cook for 5 minutes. Turn, spread half of sauce over salmon, and cook the other side for 3-4 minutes. Turn, spread the remaining sauce on the fish, and cook 1 more minute. 
Serve the fish with the fresh lemon wedges.
Serves 4.
Note: rule of thumb is to cook salmon ten minutes per inch of thickness of your fillet. Adjust cooking times if your fish is thicker or thinner.