Ingredients: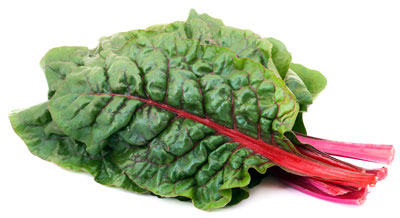 2 Tbl. extra-virgin olive oil

3 to 4 slices of bacon, finely chopped
2 cloves of garlic, minced
1 small bunch red chard, stemmed and chopped
Pinch of grated nutmeg
1/2 tsp. salt
1/4 tsp. freshly ground pepper
1/2 tsp. paprika
1 cup basmati white rice, uncooked
1 3/4 cups chicken broth
Heat olive oil in a saucepan over medium heat. Add bacon and cook 2 minutes. Add garlic and cook 1 minute. Add chard and a pinch of nutmeg, salt, pepper, and paprika. When the chard is wilted add the rice and cook, stirring 1 minute more. Add the stock or water and bring to a boil. Reduce heat to a simmer, cover saucepan and cook 15-18 minutes, or until the rice is tender. Fluff with a fork and serve. 
Serves 4.