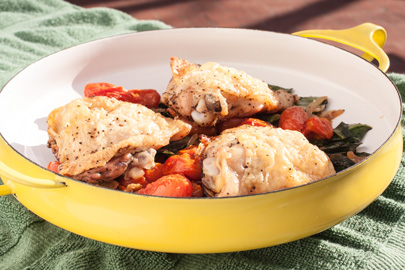 Ingredients:
8 chicken thighs, bone-in and skin-on

2 pints grape tomatoes
3 Tbl. olive oil, divided
3/4 tsp. Kosher salt, divided
1/2 tsp. pepper, divided
1 medium onion, sliced
1 bunch collard greens, stems discarded and leaves cut into 1-inch strips
Juice of one lemon
Heat oven to 450 degrees.
On a large rimmed baking sheet, toss the chicken and tomatoes with 2 tbl. of the olive oil, 1/2 tsp. salt, and 1/4 tsp. pepper.
Roast the chicken and tomatoes until the chicken is cooked through, about 30-35 minutes.
Meanwhile, heat the remaining tablespoon of oil in a large skillet over medium-high heat. Add the onion and the remaining salt and pepper and cook, stirring frequently, until softened, 4 to 6 minutes. Add the collard greens and cook, tossing frequently, until tender, 5-7 minutes. Stir in the lemon juice and serve with the chicken. 
Serves 4.