Ingredients: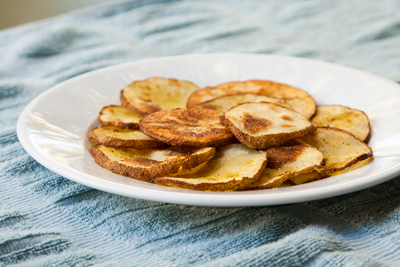 5 large potatoes, cut into 1/4-inch slices
1/4 cup organic canola oil
1/4 cup chopped fresh parsley
1 tablespoon chopped fresh thyme
1 tablespoon chopped fresh oregano
1 teaspoon kosher salt
1 teaspoon black pepper
Preheat oven to 450 degrees F.
In a large bowl, toss potato slices with oil. Arrange in a single layer in a roasting pan.
Bake in preheated oven for 50 minutes. Sprinkle with parsley, thyme, oregano, salt and pepper. Bake 10 more minutes or until golden brown.