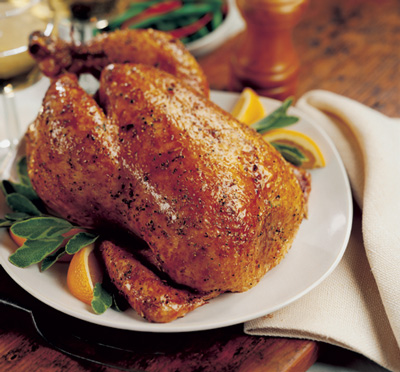 Ingredients:
1 whole Smart Chicken (3 1/2 to 4 pounds)
12 fresh sage leaves
1 teaspoon each sea salt, ground black pepper,
ground cinnamon and allspice
1/2 teaspoon ground cayenne pepper
1 onion, cut into 4 pieces, divided
1 tart apple, cut into 4 pieces, divided
1 cup dry white wine
1 cup unfiltered apple juice
Preheat the oven to 350°F.
Rinse the chicken inside and out. Pat dry. Remove excess fat. Place 4 sage leaves on each side of the breast between the skin and meat. Place 2 sage leaves under the skin where each breast meets the thigh.
Mix the salt, black pepper, cinnamon, allspice, and cayenne pepper in a bowl. Rub chicken with the mixture. Stuff chicken cavity with half the onion and half the apple. Tie legs together using kitchen twine. Place the chicken breast side up in a roasting pan. Pour wine, apple juice, remaining onion and apple in the bottom of the pan. Roast 90 minutes, basting every 20 with pan juices, until golden brown and internal temp. in the thickest part of the thigh is 165°F. Rest 15 minutes. Serves 4.
Compliments of www.cafetecumseh.com