Ingredients: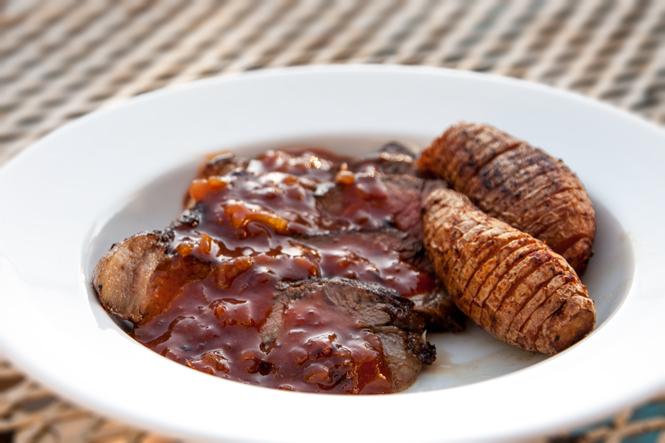 1 Tbl. vegetable oil

1 small yellow onion, finely chopped
1 small celery stalk, finely chopped
1/2 tsp. celery seed
1-1/2 tsp. dry mustard
1/2 cup ketchup
1/2 cup sweet chili sauce
1-1/2 Tbl. cider vinegar
1-1/2 Tbl. agave
1 Tbl. Worcestershire sauce
4 strip steaks, .50-.75 lb. and 3/4-inch thick
salt and pepper
Heat the oil in a saucepan over medium heat. Add the onion and celery, saute until softened. Add celery seeds and stir fry for one minute. Add mustard and stir until dissolved. Add ketchup, sweet chili sauce, vinegar, agave and Worcestershire sauce. Bring to a boil, reduce heat to medium-low and simmer uncovered, stirring often, until lightly thickened, 10-15 minutes. Divide sauce in half.
Oil grill rack and set temperature to high. Season meat with salt and pepper. Grill each side for 3 minutes, brushing with sauce. Continue grilling 2-3 minutes more on each side for medium-rare. Serve with remaining sauce.
Serves 4.