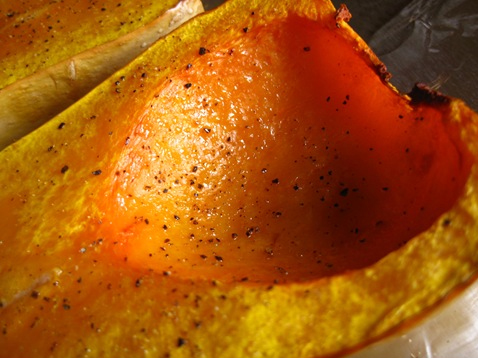 Ingredients:
1 lb. butternut squash, peeled and diced
1 tablespoon butter
1 large leek, white part only, sliced (about 1 cup)
2 cloves garlic, minced
kosher salt and freshly ground pepper, to taste
8 oz. spaghetti of choice, cooked al dente
1 cup reserved pasta water
1/4 cup fresh shaved Parmesan cheese
4 sage leaves, thinly sliced
Boil butternut squash until soft. Remove from water and puree until smooth. Meanwhile, in a large deep non-stick skillet, melt the butter, and saute the leeks and garlic over medium-low heat until soft and golden, about 5-6 minutes. Add squash. Season with salt and pepper and a little of the pasta water. Stir in Parmesan cheese, sage and pasta. Mix until well coated. Serve with Parmesan cheese on the side. Serves 4.