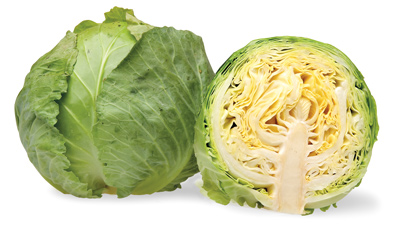 Roasting is one of our favorite ways to enjoy vegetables. It's incredibly easy, and roasting brings out the rich natural flavors inherent in each variety.
Ingredients:
1 head green cabbage
2 Tbl. olive oil
1 tsp. salt
1/2 tsp. ground black pepper 
Preheat oven to 425 degrees. Trim off the bottom of the core, and any wilted leaves from the outside of the cabbage. Cut into 8 wedges.
Place wedges on large rimmed baking sheet, preferably lined with parchment. Drizzle olive oil over wedges and sprinkle with salt and pepper. Place in oven and roast for 15 minutes. Flip cabbage wedges over and roast another 10-15 minutes, until edges are browned and cabbage is tender but still a bit firm. 
If desired, squeeze a bit of lemon juice or drizzle some balsamic vinegar over the wedges before serving. Serves 6-8.