Ingredients: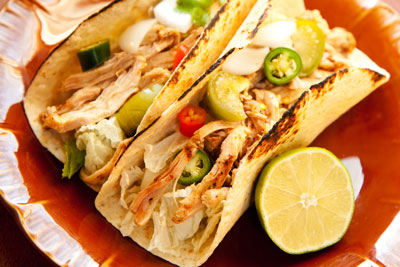 1 pound boneless, skinless breast or thighs
1 yellow onion, julienne
1 red bell pepper, julienne
1 teaspoon each salt, chili powder, and cumin
1/2 teaspoon onion powder
1/2 teaspsoon garlic powder
1/3 cup chicken broth
Flour or corn tortillas
Fajita toppings of your choice: shredded lettuce, shredded cheddar cheese, salsa, tomatoes, guacamole, cilantro, sour cream or Greek yogurt, jalapeno slices, lime wedges, etc.
Combine onion, peppers, and chicken in a crockpot. Sprinkle the spices over the top and stir gently to combine. Pour chicken broth over the top. Cover and cook on low for 7 hours or on high for 3–4 hours.
Remove chicken from the crockpot and shred with two forks. Add the chicken back to the crockpot and combine with the veggies and juices.
Serve meat mixture with slotted spoon on tortillas. Top with a squeeze of fresh lime juice and your choice of toppings. Serves 4 to 6.
Compliments of www.cafetecumseh.com