Ingredients: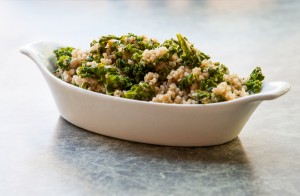 1 cup quinoa (washed & drained)

1.2 tsp. sea salt
2 Tbl. olive oil (divided)
1 3/4 cup boiling vegetable broth
3 cloves garlic, minced
4 cups lightly packed, chopped kale leaves
1 Tbl. fresh lemon juice
1/3 cup pin nuts (toasted)
salt and pepper (to taste)
Dry-toast the quinoa in a skillet, stirring until golden and fragrant, about 6 minutes. Transfer to a medium saucepan. Add salt, 1 tablespoon of olive oil and the broth. Set heat to low, cover and simmer for 20 minutes. Let stand 5 minutes; the fluff with a fork.
In a skillet over medium-high heat, add remaining olive oil and garlic; saute for 30 seconds. Add kale and saute until tender, 3-4 minutes. Stir in quinoa, lemon juice, pine nuts, and salt and pepper to taste.