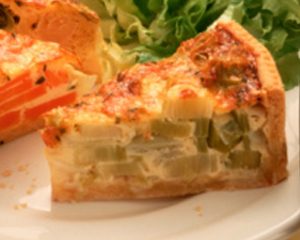 Ingredients:
 1 prepared 9-inch pie crust, unbaked
1 cup chopped asparagus, tips and tender stems
1/4 cup sliced green onions
1/4 cup sliced mushrooms
1/2 cup shredded Swiss cheese
1/2 cup shredded cheddar cheese
3 eggs
1 1/2 cups milk
1/2 teaspoon salt
1/2 teaspoon ground black pepper
Preheat oven to 375º F. Place asparagus, green onions and mushrooms on bottom of pie crust. Sprinkle cheeses over. Whisk together eggs, milk, salt and pepper. Pour over cheese and vegetables. Bake about 45 minutes, or until knife inserted in center comes out clean and center is not quite firm. Serve with a salad of fresh baby greens, and crusty whole grain bread. Serves 6.